Medical Director
Diana H. Kersten, MD, FACS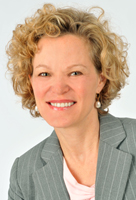 Dr. Kersten provides oversight to ensure the highest medical and safety standards are met, and that each patient receives outstanding care. Because she is also committed to the well being of patients, she is guided by a strong sense of humanness and exemplary personal ethics.
"Doctors wish to give their patients the best quality care possible. This modern and beautiful center is ideal for accomplishing that goal. In this smaller, focused environment, we can offer the friendly, efficient and hospitable care that patients yearn for."

Dr. Kersten's medical training and experience demonstrate a commitment to excellence. She received her medical school training at the University of Iowa and her internship was at the University of California at San Francisco. Her ophthalmology training was completed at Harvard Medical School (The Massachusetts Eye and Ear Infirmary).  Dr. Kersten is a fellow of The American College of Surgery and she is board certified in ophthalmology by the American Board of Ophthalmology.
Her lifelong dedication to improving sight has led her to specialize in the laser correction of refractive (focusing) errors. Dr. Kersten performs LASIK and other refractive procedures to precisely correct near and farsightedness and astigmatism. She has successfully treated thousands of patients including many doctors, family members and even her own husband!
For two years (1986-1988) she volunteered her surgical skills while working in underdeveloped countries in Africa and Asia. She has continued this volunteer work by donating her time to cataract clinics in underprivileged countries. To date she has worked in 18 developing countries and has performed thousands of ocular surgeries all over the world.
As a medical director, she brings a wealth of clinical experience and a commitment to excellence in patient care.